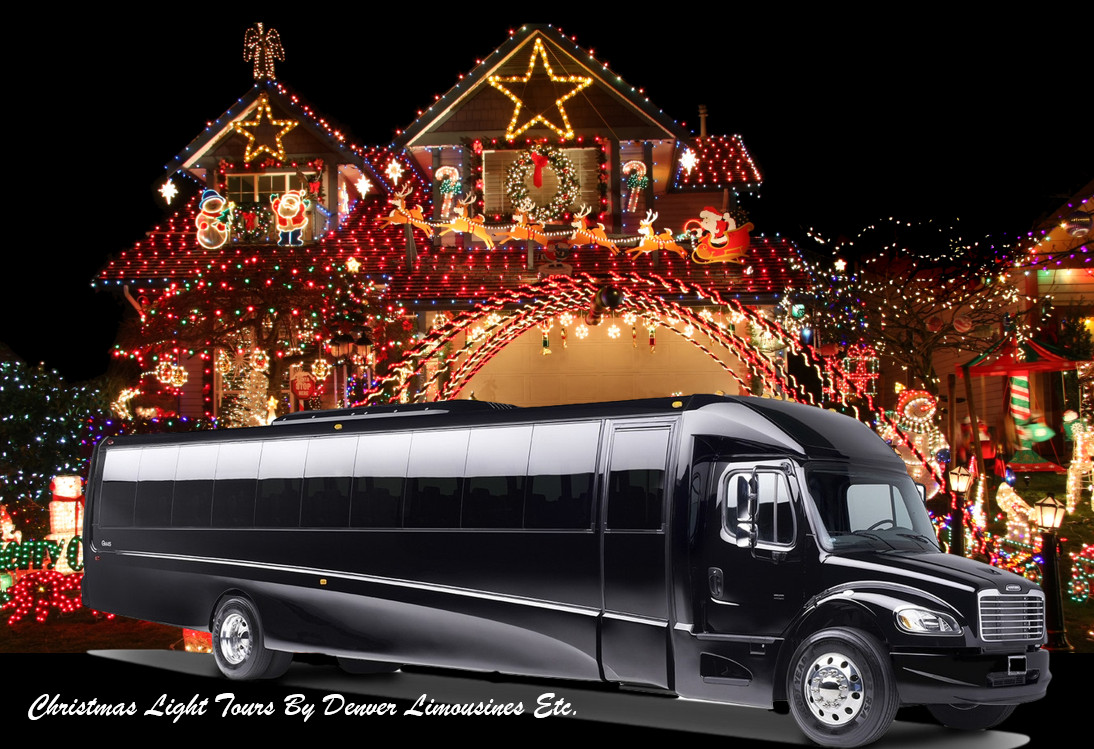 Christmas Light Tours Denver Limousine Etc
Denver Christmas Light Tours – We have many limousines to pick from for your Holiday Lights Tour.  But frankly our buses are the best as they have very large windows and can accommodate your entire family, friends and guests.  We can tour all the famous spots in the Denver Metro area.   Denver is famous for getting into the Christmas Spirit. 
There are so many events to view, to name a few: The Grand Illumination in Downtown Denver. Light the Lights in the Civic Center Park.  Lights and Ice Festival, Civic Center Park,  Then there is Santa's Village,  The Hudson Christmas – Hudson Gardens and Events Center.  The Blossoms of Light located in the Denver Botanic Gardens.   There is the 9News Parade of Lights.  This is a hot event in downtown Denver.  Then the Zoo Lights are Great at the Denver Zoo.    Or how about the Christmas Lights of Denver located at History Colorado Center.    There are many shows too! 
Even if you just want to tour many of the Residential Homes that are decorated with Christmas Lights, we know all the best fancy residential home sites that are historically famous for fancy decorations for the Christmas Holidays. When you call us for more information,  just let us know which type of area you want to tour.  If it is the homes you like or if its the Night Time Town Lights.  We know all the best spots.  If you need refreshments, be sure to let us know.  We want to make sure you are happy and full of Christmas Cheer when you travel in our limousines.
Don't forget to make plans for New Year's Eve Fireworks too.  This is located at the 16th Street Mall.  All of these events will have lots of traffic and parking problems.  But with us,  let us be your designated driver for the night.  We will get you to your Christmas and New Years Eve Events with plenty of sights and sounds. 
Check out our additional limousines available below.  If you need something smaller, we have the right limo for you.

Call us for a custom quote: 303-936-7895